In 2003 Fondazione Pitti Discovery dedicates an entire project to Youth, which is presented in an exhibition entitled "The Fourth Sex: Adolescent Extremes", seen as
"an opportunity for reflection on the increasing importance of teenage tribes in our society. A society where the obsolescence of concepts of sexual and demographic identity reflects social changes in progress in a violent, contradictory manner. The fourth sex belongs to adolescents. A sexually indefinite moment, in which gender ambiguity prevails. Adolescents are not boys or girls and not yet men or women. They belong to a parallel, fluid universe, in a state of becoming. They are closely connected to the present, yet symbolically contain the seeds of future. Adolescence is not just a phase of passage in human life, it also is a mental state, an existential condition with an overwhelming impact on lifestyles and trends. Adolescents are omnivorous, tireless consumers, distracted but also attentive, easily persuadable but also independent. Adolescents do not want to be well-balanced, they love extremes in everything: from fashion to art to music…
Unbalanced between the present and the future, adolescents appear to us as both agitated and strangely passive. They may give form to their world in an aggressive way, but at the same time they are also forced to come to terms with the labels, the judgments and the formulae of the adult world."(Fondazione Pitti Discovery, 2003)
The exhibition is then followed by the publication of the homonymous book under the creative direction of Maria Luisa Frisa, which works as an astonishing photographic archive. It also works as a big container collecting historical references about poetry, essays, scientific articles, fine arts productions, songs, places, movie and iconic personages like Sylvia Plath or Christian F.
Later on in 2008, yet before we could effectively spot Social Media effects on our daily life, Future Concept Lab publishes "Consum-Authors: Generations as creative enterprises" edited by the sociologist Francesco Morace, which analyses emergent lifestyles by taking in consideration the new generations that 'have grown and been nurtured on a daily basis trough permanent connection with and the virtual contents of the most advanced technologies'(Morace, 2008:19).
Morace then argues the value of speed of innovation and technologies in relation with a market that has to rethink, to recreate to redesign (Morace, 2008:5). The author focus on the re-generation of the way we conceive the experiences and consumption (convivial and shared, the archetypical, transitive, vital memory). In addition, Morace's research mentions breakthrough thoughts of David B.Wolfe, who wrote about the Ageless Marketing and the one of Ken Dychtwald, who explains how individuals, businesses, and governments would enter an era in which our priorities would be set by the needs and desires of the elder people. Indeed
"the analysis of generations, and the study of ages are therefore thoroughly changing. Sex and identifying age do not only not help to define precise categories, but become strategic variables for the paradoxical game of contraries that are touched, creating complexities and contiguity that only a few years ago were unthinkable: grandparents and grandchildren, men and women, adolescents and young adults, all exchange their experiences according to a fun and ambivalent mood, that send the guardians of segmental marketing crazy, and that places the experience of every single element at the centre. In this context, the global nature of the experience and the singularity of the subject come together"(Morace, 2008:25)
By investigating on ten generational nuclei, Morace still maintain a sort of distinction aged-based (Posh Tweens, Singular Women, Normal Breakers and so on), but we notice that since they coexist simultaneously, we can stress on how that distinction figures as result of individual choices (we shall not forget that the book came out as almost as the same period when Italians started experiencing the quiet introduction of Facebook, which was mostly used by high school students to contact their friends and colleagues).
In the fashion area, many brands have already expressed such an approach when launching their collections with unusual models, as Alber Elbaz did with his Fall/Winter 2013 Campaign by taking people from the street, no matter about their age.
In October 2015, Vogue Italia dedicated an entire Issue on Youth where, in the breath-taking shooting from Mert Alas & Marcus Piggott, the young vibes are surrounded by a mystic aura, tenderly interpreted by pale tones in stark contrast with their rebel connotations. The images are then followed by a consideration about the effects of globalization on our society made by Peter Cameron, who highlights the birth of Generation U (Unclassifiable, Unpredictable, Untouchable) as the mega-generation of the future.
Alessandro Michele has fully reshaped the Gucci image, where the "adolescentisation" of its surreal models represents the secret ingredient of change.
Therefore, this tendency has passed down to reviews like The Greatest, a fashion biannual Milan based magazine for men edited by Matteo Greco. Indeed, "The Youth Issue 09"(2016) explores this feeling throughout pictures, interviews and a fashion movie released by the magazine's Art Director Luca De Santis, who whispers us his abstract vision of youth. In the movie we see a slender boy with long, golden hair that tenderly dives in a dream, where the abstract poetry transcends over his physical beauty. The clothes? All by Gucci, of course.
The 2016 continues in the sign of this ageless melting pot: Pitti Immagine Uomo inaugurated its events focusing on the Generation(s) guideline theme, which according to Agostino Poletto, vice-CEO of Pitti Immagine,
"it will look at the simultaneity of the many different generations in fashion and styles of today. The speed of contemporary life compresses and mixes personal and generational time, taking in nostalgic references and experimentation, in a global action that goes beyond borders. In this way, Pitti Generation(s) will give an ironic, lightweight look at an era where age is increasingly more a mental attitude than a number, with mature men in jeans and Tees and youngsters with Victorian-style beards and a passion for vintage."
Thereafter, from January to April 2016, Fashion Space Gallery in London hosted the exhibition "Mad about the boy"
"explores fashion's obsession with youth, focusing on the way ideas of the teenage boy are constructed through specific collections and fashion images. Sparked by the success of designers like Hedi Slimane at Saint Laurent, Raf Simons and Gosha Rubchinskiy – all of whom seem to share a fixation with youth culture – the exhibition sets out to examine the tropes and parallels within fashion's treatment of youth."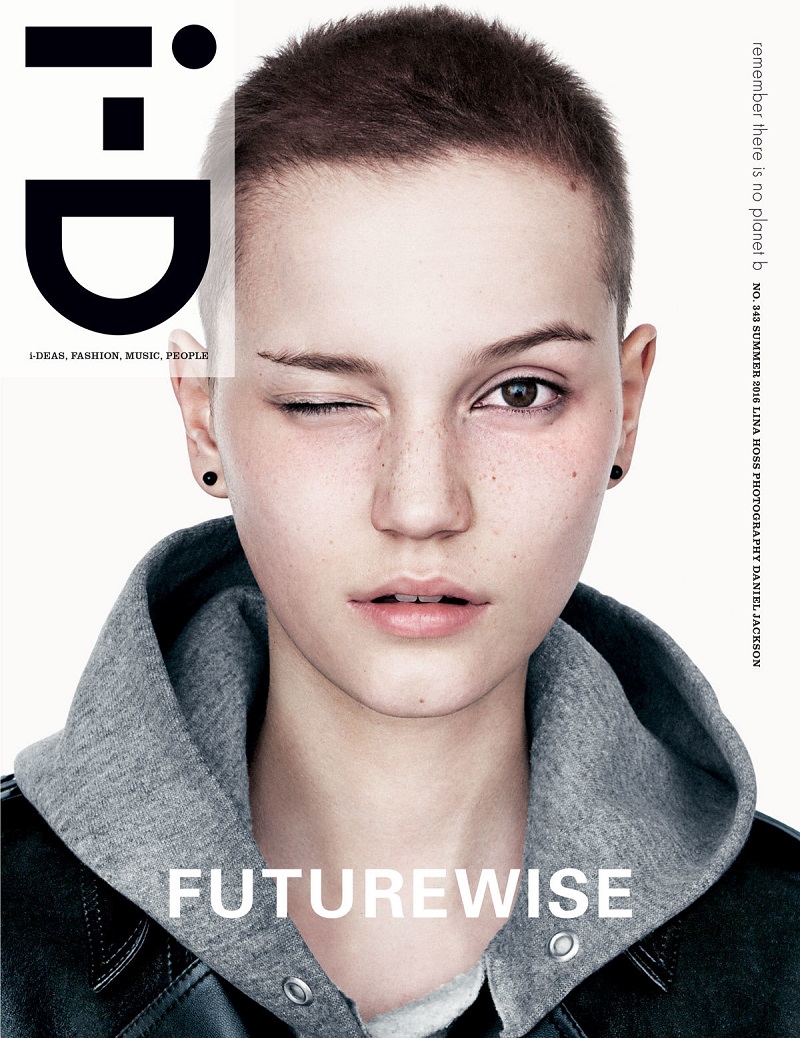 The summer 2016 i-D "Futurwise" Issue centres on how Brexit would affect the global generation, by providing us a collection of pictures where worldwide youths light up a kind of beauty that is not global neither individual, instead they are portrayed as thinking persona that fully participate in social topics. Furthermore, it presents Vetements as "the biggest worldwide fashion phenomenon of the internet age"(Madsen,2016:132). The collective barged into social discussions not only for the creative force they bring in fashion system, but also because of the multicultural appeal which unify their imagery. Georg Naoum says tha "Vetements provides a sanctuary that invalidates cultural and religious boundaries'(Madsen, 2016:132), so as we discover a maverick statement fulfilled by nostalgia as well as protest that overcomes local, sexual, politic and eventually age limits.
From September 2016 to February 2017 The V&A Museum of London presented "You Said You Want a Revolution?" exhibition that, what a coincidence, delves into the decade that significantly impacted on social culture: the 1960s. Indeed, the highlights of this major exhibition concerns the overall Revolutions (in the street, in the head, in identity, in politics, in consumption, in living and in technology) made by young in those years and then the on-going revolution by stating that 'the roots of many of today's key concerns – from environmentalism to personal computing to neo-liberalism – can be identified in this era'(V&A,2016)1.
But the revolutionary statement of fluid youth does not come only from young collectives neither it is a matter of 40 years old men wearing AC-DC T-shirts.
The phenomenon is much more visible if we try to associate it with (biologically) old individuals and keeping in mind that talking about the relation between ageing and fashion is quite a delicate issue, which involves taking in consideration a variety of aspects that firmly influence our perceptions and attitude towards daily life.